Patchy Hair Loss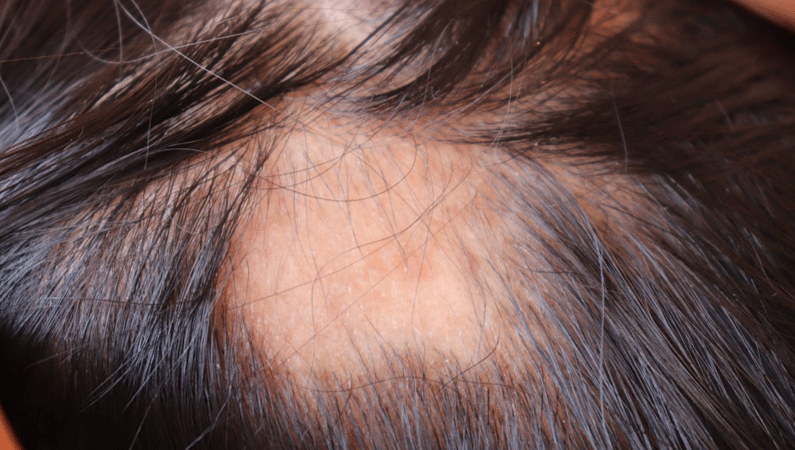 Patchy Hair loss is a condition that causes hair to fall out in small patches, which can be unnoticeable. These patches may connect, however, and then become noticeable. The condition develops when the immune system attacks the hair follicles, resulting in hair loss.
Symptoms of Patchy hair loss
The most common pattern is one or more well-defined spots of hair loss on the scalp
The main symptom of alopecia areata is hair loss. Hair usually falls out in small patches on the scalp. These patches are often several centimeters or less.
Hair loss might also occur on other parts of the face, like the eyebrows, eyelashes, and beard, as well as other parts of the body. Some people lose hair in a few places. Others lose it in a lot of spots. Coin-sized patches of hair begin to fall out, mainly from the scalp. Any site of hair growth may be affected, though, including the beard and eyelashes.
You may first notice clumps of hair on your pillow or in the shower. If the spots are on the back of your head, someone may bring it to your attention. However, other health conditions can also cause hair to fall out in a similar pattern.
Diagnosis
Doctors are usually able to diagnose alopecia areata fairly easily by examining symptoms. They might look at the degree of hair loss and examine hairs from affected areas under a microscope.
If, after an initial clinical examination, the doctor is not able to make a diagnosis, they can perform a skin biopsy.
Other causes of hair loss are generally excluded from the consideration by history and clinical evaluation.
Diet
Foods with sugar, processed snacks, and alcohol may increase inflammation and irritation within the body.
You have to eat foods that are known to ease the inflammation process. The foundational foods of this diet, also known as the autoimmune protocol, are fruits and vegetables like blueberries, nuts, seeds, broccoli, beets, and lean meats like wild-caught salmon.
Eating a balanced diet — one with whole grains, fruits, vegetables, and lean meat — is beneficial to your overall health for many reasons, not just for reducing inflammation.